If you are looking for a perfect place to be in the summer, Richmond Night Market is a complete destination for you. Located in 8351, River Rd, Richmond, BC V6X 1Y4, Canada, just minutes from Bridgeport Canada Line Station. The place is known to be the largest and the biggest Night Market in North America. It has become one of the Lower Mainland's tourist destination during summer.
This year, the Richmond Night Market will officially be open from May 12, – October 9, 2017. Allow yourself to enjoy the place and everything it offers-
Food
With over 140 food stalls and 400 retail vendors, allow yourself to enjoy different mouthwatering food along with the barbecued meat and seafood on a skewer, spiral potatoes on a skewer, squid, deep fried octopus balls, hand-pulled ramen, grilled beef and pork jerky, vegetarian tempura, battered fish, and desserts like the taro flavoured egglet parfait, milkshakes, cakes, ice canes, and a whole lot more  . You would probably get satisfied with so many food choices in the place. You got to be sure not to eat before heading to the market!
Shopping
Spend less with a great product at the Night Market. From cell phone accessories, jewelry, apparels, designed socks to hand-crafted accessories & bags, Richmond Night Market has you covered.
Fun-filled Entertainment
Satisfy your visit not only with food but with nightly entertainment as well, including martial arts, dancing, and singing. Kids will probably enjoy the Giant Kid's Zone where they can play in the inflatable fun featuring the Magical Smiley Castle. They can also meet and take selfies with baby dinosaurs, happy face characters, the Talking Tree and the Playful Fountains.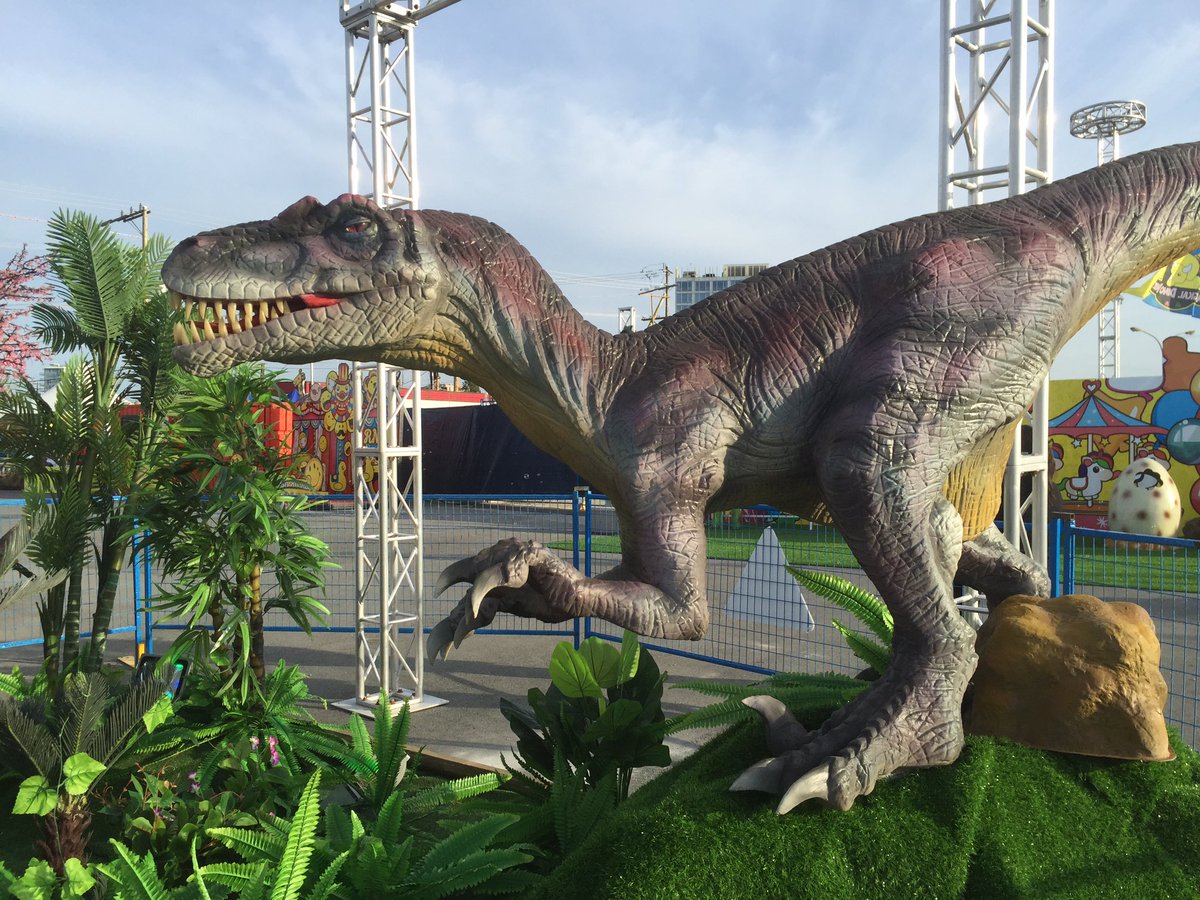 Take your family on a prehistoric adventure in the Market's Magical Dino Park, the home to 18 dinosaurs that can move and roar featuring species of Brachiosaurus, Dilophosaurus, Pterosaurs, Stegosaurus, Tyrannosaurus Rex, Velociraptor, and Triceratops. Take a chance to meet Rex (the Mascot Dinosaur that roars) with his friends and take a ride with the friendly dinosaurs.
The new expanded game area is intended for people who want to play challenging games. They have carnival games where you can try your luck and win yourself. Thrilling midway rides includes Ferris Wheel, helicopters, Octopus, and others. You may also take a walk into the water without getting wet with the popular water walker.
Coupon Book
Take pleasure in the night market's sweet Dino Deals, Dino Bites, and Dino Discounts with the market's coupon book which can also be used in local stores and restaurants. Delight your tour with over $250 discount at over 60 retail stores and over 35 food booths including deals at the carnival games.
Zoom Pass
The $20 Zoom Pass is your express access that is fast (where you can skip the line for entry), easy and even transferable (good for visiting family and friends). It is good for up to 7 visits. Get Zoom Pass at Richmond Night Market's front gate, or at the main office #3063 – 8700 McKim Way, near Cambie and Garden City roads in Richmond.
Parking Spaces
Parking spots available is over 2500. Canada line or transit is recommended for visitors who plan to visit after opening time, as it is the best way to get into the location.
*Admission fee is $3.25/person. Free admission for children 10 years old and below, seniors 60 years old and above with ID.